Affordable Commercial Solar Panels Installation| Solar Earth Inc.

Electricity is the only and primary source of energy that the world is feeding on right now. Resources like coal, oil, or natural gas are major elements of electricity production. Everything around us is almost dependent on electricity. We use electricity Commercially for our kitchen appliances and other home appliances. It does not stop here but also companies are making huge profits per annum after using electricity to run efficiently.   
There is no doubt that the world economy is running on electricity. As the demand for electricity increases so does its prices. Modern problems require a modern solution. Solar earth Inc. here advises you to transfer your dependence on solar energy. The definition of solar is "relating to the sun" or "dependence on the sun". When we say solar energy, this means "energy that comes from the sun".  
Installing commercial solar panels will not only save us from our excessive electricity expenses but also reduce the pollution that is generated because of natural resources. Sunlight enters almost every room of your house but it will not give you electricity by just entering your window glass. We help you install a complete commercial solar panel system for better updating and use of sunlight.  
Commercial solar panel efficiency is the efficiency with which solar energy is converted into electricity. Most commercial panels have efficiencies from 15% to 20% approaching approximately 50%. Solar earth Inc helps you install efficient commercial solar panels to modernize your life and effectively produce electricity to meet your commercial needs.
How Much Do Commercial Solar Panels Cost?
Different companies are providing commercial solar panel systems. Solar Earth INC. is a family-owned solar panel company in Santa Barbara that provides exquisite services, achieving the top results always. Renewable energy is certainly the path to the future. Owning a solar system makes so much financial sense. As something new circulates in the market rumors also circulate that its cost is very high.  
According to energy sage, the cost of the commercial solar panel system is usually measured in dollars per watt. The commercial solar panel cost is based on the size and scope of the project. We offer the installation of solar panels at affordable prices. As the solar market grows, solar technologies and companies are also becoming more readily available. Because of this growth, there has been an almost 90% decrease in solar panel prices since 2010.  
Our experts provide you with a brief review according to your project needs. A reasonable amount of labor cost, permitting, engineering and design, and interconnection applications are charged while project installation. We provide different options available for solar project financing. It will be important for you to familiarize yourself with what options are available and what to select within your pocket.  
Our expert technicians understand that your solar panel system is a one-time long-term investment that gives you ultimate fruit. States or local utility providers often offer rebate programs that provide you with cash or subsidies for solar panels. These energy efficiency rebates can reduce system costs by 10 to 20%. 
Commercial Solar Panels for Sale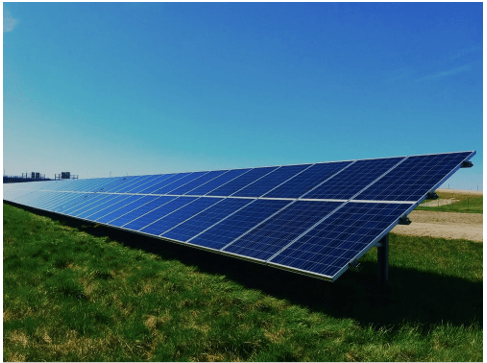 When you own a commercial solar system, it not only helps you control your electricity expenses but also saves ozone depletion. Solar Earth INC. is uniquely positioned and provides the finest services in Santa Ynez Valley. We provide you with the most affordable commercial solar panels for sale. We offer you a detailed approach to your sustainable energy strategy. Our goal is to become the number one solar panel company in Santa Barbara.  
The offers we provide are not only financially stable but also environmentally sensible. Our customer satisfaction is our top priority. We offer below factory direct pricing with factory technical support available. Our experts assist you with the solar system design and solar system financing. Our methods make your purchase easy.  
We design and supply commercial solar systems at low wholesale prices. Solar Earth INC. also offers its customers financial considerations for solar energy. Innovation solar loans opportunity is also provided to customers who are a few bucks short. You do not need to worry about the interest or principal amount payment. We assure solar finance with less than perfect credit.   
The amount we charged at Solar Earth INC. for the sale of commercial solar panels is unmatchable and affordable. Finances are available at lower rates as compared to other companies. We not only sell commercial solar panels at reasonable prices but also our labor costs and other necessary prices are designed to be pocket friendly. Our aim is not only to generate profit but also to provide you with minimal cost adequate services. 
Used Commercial Solar Panels for Sale
Many people in the market believe in continuously replacing their commercial solar panels on a timely basis. Even if their old commercial solar panels are working properly, they are much inclined towards installing new commercial solar panels after 9 to 10 years. These used commercial solar panels are significantly lower in price.  
Commercial solar panels are very sturdy and require very little maintenance. Solar Earth INC. also offers used commercial solar panels for sale. One of the tremendous advantages of second-hand solar panels is that they are all significantly lower in price. You can buy two commercial solar panels for the price of one new one from us. The second-hand commercial solar panels we offer are not only at reasonable prices but also in perfect condition.  
These second-hand commercial solar panels do not provide a lifespan of 15 to 20 years but we guarantee that they will be working efficiently. Used commercial solar panels become available for sale after complete examination. We help you find a well-preserved product that will help you enjoy both the efficiency and the remaining life span. At lower prices, you get the best quality second hand commercial solar panels.  
The quality is not compromised here whether you are going for a used commercial solar panel. Used commercial solar panels are mostly installed for home energy solar, well pumps, Wi-Fi sites, and solar irrigation. According to the World Bank, the off-grid market is a dollar 1.75 billion sector. Our expert provides you with all the details needed to ease your decision-making process and you can easily analyze the essential aspects of owning used commercial solar panels. 
Free Solar Panels for Commercial Buildings
Commercial buildings are the buildings where the commercial activity takes place. It mostly includes office buildings, warehouses, retail spaces, etc. These buildings make up an enormous portion of the built environment. They serve as a platform for most industries and provide the general public with areas to workshop and socialize. 
When you are going to consider options for solar panels, consider Solar Earth INC. as we provide the top financing options in Santa Barbara. We offer you the best free solar panels for commercial buildings. We provide you with grants and if your business qualifies, we can supply and fit solar panels for your business for free. After installation, your business will benefit from a highly subsidized rate per unit of electricity you will use.  
Solar Earth INC. provides you with all the costs on the front. There are no hidden costs or monthly charges. There are also no distribution charges and the system we provide will not only increase the value of your asset but also give you the privilege to contribute to a healthy environment. Our systems are offered cost free to your commercial buildings based on qualifying our criteria. You only can get free solar panels if  
you can provide 12 months of electricity bills  

you must be legally able to rent your roof surface  

your roof must be structurally sound  

your company must be established and have a stable credit score  

your building must be connected to a district network operator  
If you fulfill our criteria, our experts will help you install the best solar panels. A survey is done by our experts on your roof and you will be required to sign a lease after seeking any appropriate planning permission. You can also contact us for further discussions. Only expert technicians are hired with worthy experience to offer the best in town.
Best Solar Company in Santa Barbara
Solar Earth INC. is a family-owned company in Santa Barbara that shows efficiency in every work. We provide you with the best commercial solar panels at adequate prices. A guaranteed lifespan of the solar panel is provided to our customers. Our customer satisfaction is our priority.  
 Installing commercial solar panels will help you move on the path of technology. You not only get free electricity from the sun but also great incentives from the government with a 26% tax credit with a payback period of just a few years. 
The offers we provide for our commercial solar panel are unmatched providing highly attractive cost points without sacrificing the standard of materials labor and individualized services. We are local, reliable, articulate, and friendly. We only use American products. We are located in the beautiful Santa Ynez Valley. Solar Earth INC. is serving commercial solar panel and residential solar panel installation for quite a time.  
Whether you want to purchase a new solar panel or want to have an opportunity to buy a second-hand commercial solar panel, you can contact us for our services. The inverters we provide are probably the best in the world. We also offer roof attachments and ground mounts services. Call us to get the benefit from our expertise or you can email us with your queries. We are a licensed company and offer the best solar panel services in Santa Barbara.
Do you have any specific criteria for hiring?
Many companies in Santa Barbara provide solar panel installation. To be the best, you have to act like one. All our experts are hired after meeting eligibility criteria. Further, proper training is provided to them to be in line with the changes in technology. 
How much labor cost do you charge for installing reused solar panels?
Second-hand solar panels have the advantage that you can get them at less than the original price. When it comes to their installation it requires the same amount of effort. However, for our sincere customers, we offer adequate labor costs and different incentives.for more details contact us