Residential Solar Panels for Sale
As the world is progressing, so do the ways of living. Residents are choosing their source of energy wisely. They want something that not only provides them electricity but also protects their environment. They want to leave a healthy environment for their kids and grandkids. For these kinds of responsive residents, experts advise solar panels systems. They not only trap sunlight and alter it in the ways you want, but also save you a lot.  
Imagine having the best residential solar panel. You not only enjoy the technology here but also take the advantage of natural light to use according to your mood and gadgets. Solar Earth is a solar panel company in Santa Barbara that guarantees post-handover maintenance and warranty that would make the most skeptical of clients convert to a solar and renewable form of energy. We ensure that every client and customer receive the best services they require in their residential sector.  
Solar panels harness the sun's power and turn it into electricity. Sunlight enters every room, but it will not give you electricity. For that, you need to install a complete home solar system with our help. Residential solar panels have gained a lot of momentum over the past few decades because of their wide range of benefits. Homes and businesses are shifting from fossil fuel electricity to a clean energy economy.
Residential solar panel systems have different capabilities and are available in different markets to comply with the needs of customers. What most of the residents get from it is premier energy that they can use as per their demand.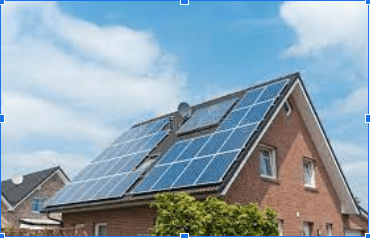 How Much Do Residential Solar Panels Cost?
When you try to change your ways of living in a modern era, the first thing that your mind is stuck with is the cost that you are going to bear. Many companies only need your money and have no experience regarding tools and solar panels. Solar Earth INC. is a company with a great portfolio and reputable reviews in the market. You can come to us for a fair estimate of residential solar panels cost.  
Not everything that changes your way of living is expensive. But the fact is, as the demand for solar panel systems is increasing so does its price is becoming to its minimal point. The cost of solar systems usually depends upon the system size, state, and panel brand. Also, the labor, the material, and the expertise have a significant impact on the final number you pay.  
However, when you consider any solar rebates and incentives, they can reduce the upfront cost of solar or even get some money back over time. Residential solar panels are a unique product so the price you pay is heavily dependent on your unique situation and factors related to your property and electricity usage. Residential solar panels installation costs also vary by your location.  
Solar Earth INC. offers you affordable and eco-friendly solar panel system installation. Our cost card is designed with the help of experts. We charge reasonably from using our expertise in solar panels. We also offer a solar loan facility with reasonable tax credit terms. We consider rebates or incentives as well and you can also have a lease agreement with us under IFRS-16.  
Fun Fact: In 2022, solar panels cost around $20,000 on average. With the cost of solar panels dropping every year, there's been a better time to go solar.
Residential Solar Panels Near Me
Nonrenewable resources of energy give birth to toxic waste that is causing major health problems. Thanks to the increased awareness of the drawbacks of traditional power resources, popularity has shifted to the residential solar system. If you love Mother Nature and want your children to breathe in pollution-free air, drink unpolluted water and save money for the future, this is the best time to do it. Adopt a healthy lifestyle by installing residential solar panels at your residence.  
Only choose the top residential solar panels companies that guide you the best. Solar Earth INC. is a unique service provider that is considered among the top residential solar panel companies not only providing high-quality services but also trustworthy installation and maintenance. We are a family-owned company that works closely with our customers. We offer our services to the Santa Ynez Valley.  
If you're looking for the best residential solar panels, we are the ones that offered you the best at affordable prices. When you own a residential solar system it not only controls your electricity bills but also says ozone depletion. You can get the best financial deals from us that will also be environmentally sensitive. We also offer residential solar panels for sale. 
Our experts will assist you with the solar system design and solar system financing. We designed and supplied residential solar systems at low wholesale prices. We offer financial consideration to our customers. The services you get from us are unmatchable and affordable. Finances are available at a lower rate as compared to other companies. 
Residential Solar Panels Installation
Solar systems are made up of solar panels that have solar inverters, to convert sunlight into electricity. The better the residential solar panel you installed, the optimum services you receive.Photovoltaic (PV) is also one of the best option for you if you want to install solar on your roof. The most common location for the installation of the solar panel is the roof . However, you can also install your residential solar panel systems where sunlight is abundant and no interruption is there.  
You just need to make sure that there are no objects blocking access to the sun. When it comes to installing the residential solar panel system in your house, it requires your long-term investment at stake. It is your responsibility to choose your installers efficiently. Solar Earth INC. Is a company that helps you install your solar panel system within no time.  
Steps are performed likewise. Scaffolding is erected to ensure your safety during the whole installation process when being on the roof. A solar panel mounting system is set up then that will support the base of the solar panels. Solar panels are then installed with tightened bolts and nuts. Proper electrical wiring is done and solar inverters are connected to the system.  
Inverters are more efficient if kept in a cooler place. Efficient solar batteries are used by our experts during the installation and then proper connection with the consumer unit is connected to monitor the amount of electricity the solar panels usually produce. Our expertise will make you use your computer or other devices to check your solar system's performance more easily. 
Residential Solar Panels: Pros and Cons
No doubt residential solar panels are a lifesaver. When installed, people enjoy a lot of benefits from them. Long-term fruit is expected from them and expectations are met. However, the upfront installation cost can be high, but the cost-benefit is clear. Solar panels make your home financially and environmentally stable and responsible. It lowers your electricity bills and offers new tax incentives. From adding value to the house and exempting property taxes, they have gained a lot of hype. They also help you in  
Financial support from the government  

Energy independence  

Reduce carbon footprint  

Longevity and little maintenance  
Do people often wonder whether there are downsides to solar panels as well? sadly, but yes. Those maybe  
High initial costs  

A lot of space usage  

Does not work properly at night  

Difficulty in transportation and installation  

Intermittent energy source  

Roof sometimes isn't right for solar as well as ground  

You can't install a home solar system by yourself  

Highly weather dependent  

Associated with pollution  
Whatever you choose for yourself, choose wisely.
The Best Residential Solar Panels
Everyone wants and deserves the best in this life. Especially when they are paying a large amount of investment, they expect nothing but the best of the outcome. The best residential solar panels are the ones that maximize the usage of the sun in the form of electricity. It works independently of every stone in its way.  
It provides panel efficiency and panel-rated power depending upon your consumption habits. The typical home needs between 15 to 20 solar panels to cover 100% of electricity usage. However, the number depends upon your geographic location or panel efficiency. When you start getting the outcome of your investment, it means you have the best residential solar panels at your place.  
The most efficient solar panel is a monocrystalline solar panel. It can help you reach over 20% efficiency. On the other hand, polycrystalline panels can reach only up to 16 to 17% efficiency, no matter how much sunlight.   
The more efficient your solar panel is in converting your solar energy into electricity, the most effective household you will be having. There are almost 300 solar panel manufacturers in the market right now with different solar fields. Competition in a market is great so you should be aware of the scammers. Solar Earth INC. will make you focus on the three key criteria as per the adoption of residential solar  
Brand repute   

Manufacturers financial position  

Value of money  
Solar panels last so long however they need just cleaning after some times.Most of the manufacturers claim a warranty over 25 years of life span. High quality comes with a higher price tag sometimes. Solar Earth INC. will help you make a reasonable choice for your home for a better future ahead and solar cleaning services also.
Do you have any specific criteria for hiring?
Many companies in Santa Barbara provide solar panel installation. To be the best, you have to act like one. All our experts are hired after meeting eligibility criteria. Further, proper training is provided to them to be in line with the changes in technology. 
Are Residential Solar Panels Systems safe?
 Our experts guarantee the safety of your house and your loved ones. All installation criteria are met under proper care.