Solar flood lights are a great way to improve your home's security and look great. These lights are a great way to add extra light to your property at night or during the day when the sun is not shining. They are very simple to install and can be powered by a battery or solar panel.
Solar flood lights are essentially the combination of two beautiful tools.  
First, floodlight is generally used to lighten outdoor areas with extreme brightness.  
Second, solar panels grab sunlight and store it as solar energy for their batteries.
These make the very useful and efficient solar floodlight. These also provide you the much-needed.security you need for your loved ones while being very sustainable and eco-friendly. However, not all solar flood lights were built the same, and choosing the best solar flood lights can get confusing. Luckily, we did all the research, so you won't have to.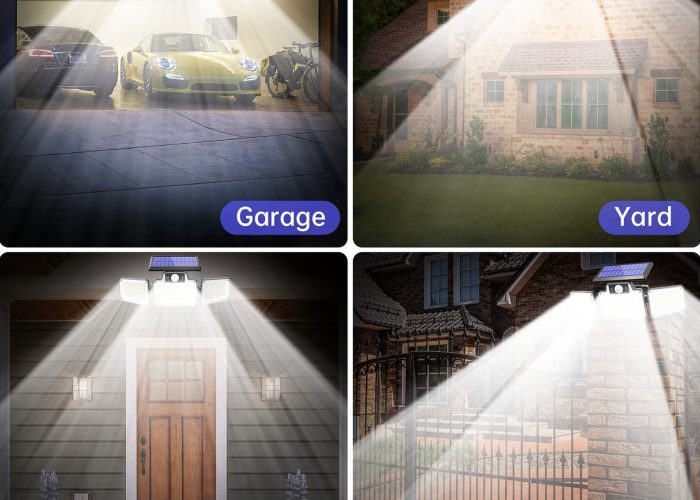 Benefits Of Solar Flood Lights
Many people are unaware of the amazing benefits of best solar flood lights.These lights are a great way to improve your home's security and look great at the same time. Here are some of the benefits of solar flood lights:
They are energy-efficient: Solar flood lights are a great way to save on your energy bill.They are environmentally friendly: Solar flood lights use less energy than traditional lighting sources, so they are good for the environment.
They are portable: Solar flood lights are easy to move around your home, so you can adjust the light as needed.Solar flood lights provide different modes like bright or dim and regular ON or action sensing.
Solar power lights use innovative solar technology to detect the battery's power and control the power and performance to deliver lights. Easy to install and do not require any wiring.
They are very versatile and can be used for security, landscaping, or general lighting purposes and powered by the sun, so they are free to run once you have installed them.
These lights are very bright and use very little energy.
Types Of Best Solar Flood Lights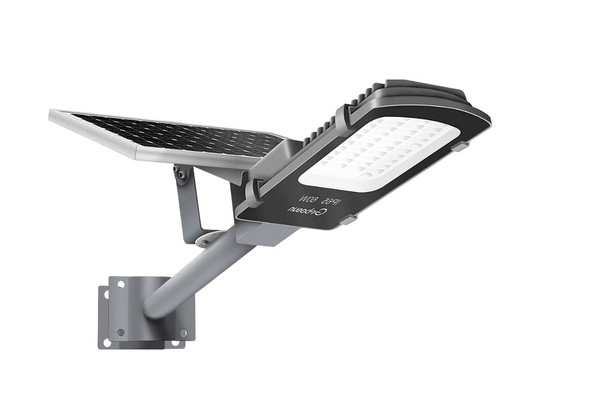 60W Solar Flood Outdoor Street Light one of the best solar flood lights from Gebosun is a classic high beam street light-like floodlight with an impressive 6000K daylight white Brightness.  
The floodlight comes in a lovely black finish and is made of aluminum. Its dimensions are 17.17 by 13.94 by 6.06-inches, and it weighs 12 pounds. Solar flood lights come up heavier than other solar flood light models. However, the hefty build of this solar flood light also provides it with shock and vibration resistance, which is much appreciated. Our team was impressed with how bright this particular light can get.  
It provides a brilliant 3000 lumens of brightness that can light out a wide area with great ease. The 3000 lumens LED bulb has a wattage rating of  30 watts and is integrated with 409 high-quality.  LED bulbs. The team found that on a full charge,  the bulb can run for around 12 hours on an 8-hour solar charge. Running entirely on solar power, the lights are backed by a massive 12,000 milliamp hours high capacity lithium-ion battery. 
This strong light can easily replace a 150-watt  large outdoor High Intensity-Discharge light is powerful enough to light out entire basketball courts. Another thing the team appreciated about this light was its good quality dusk to dawn photocell. This light automatically turns on when the sensor detects  the environment is getting dark. It also turns off automatically when daylight comes. 
The light can be pole-mounted on any place with a 3 to 5-meter  high pole. If it is mounted on 10 feet or taller pole, it can cover 13 by 23 feet of space. For  16 feet poles, it can cover 19 by 32 feet space. Lastly, all Gebosun products come with a  2-year unlimited after-sales manufacturer warranty and they also have good 24/7 customer service when making this video. Due to its high-intensity beam light and reliable long running time, we think this is perfect for people looking for a low-maintenance security light that they can leave out there. 
Richarm Solar Flood Lights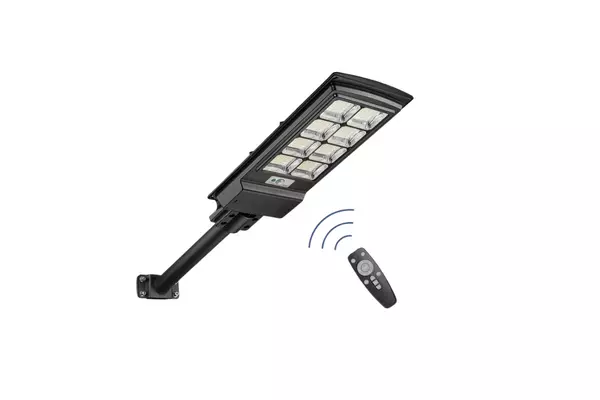 Richarm Solar Flood Lights Outdoor Remote These outdoor flood lights from Richarm come with proper remote control on top of having an impressive wide-angle illumination. These lights have a 6-watt rating, each with 42 LED lights in its bulbs. Each of the bulbs have about 800 lumens power rating, and the bulbs are made out of die-cast aluminum.  
These lights have a wide angle of 60 degrees focus  and can illuminate anything around an area of 430 square feet. Our team was impressed to find that the panels on these solar flood lights are highly efficient and photoelectric. They can convert about 17 percent of the sunlight into energy.  
And that sunlight energy can be stored in a large 3.7-volt  lithium-ion battery with a capacity of 2,200 milliamp hours. During our product testing, we  found that this battery can light up the bulbs for Eight hours continuously in full power. In addition,  these lights come with a 16.4 feet large cable that lets you place the light at any height relative to the solar panel placement.  
This set of floodlights is weatherproof and waterproof, as it is made of ABS plastic with die-cast aluminum that is IP65 rated. The team also appreciates the remote control of the lights, which is very useful. The remote control lets you  control the brightness of the morning to 30 percent, 60% percent, and 90%. You can also use  timers to turn off the lights automatically 1 to 9 hours in 1-hour increments. Lastly, these solar lights come with a 90-day return window and a massive 3 years warranty of solar flood lights outdoor
What we love about the Richarm Solar Flood  Lights are its impressively efficient solar panel and nifty remote control. We think it makes for the perfect outdoor light for people who want more hands-on control over how their floodlights perform.
 28W LEPOWER LED Security Lights with motion sensor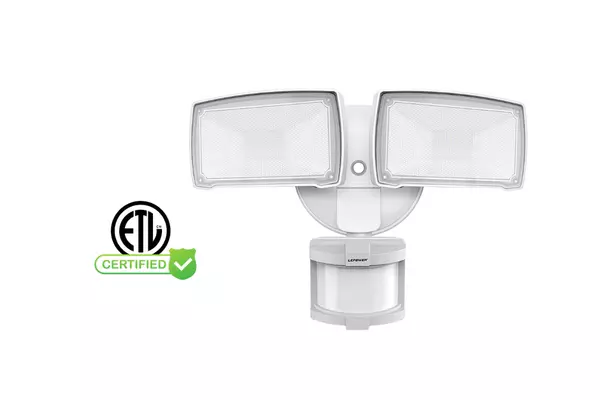 This security flood light from  LEPOWER is wonderful  with key helpful features such as its motion sensor and light angle adjustability. One thing that makes the LEPOWER Solar Security Light great is its adjustability. The light is made of three pieces, the solar panel and two floodlights. 
All three are then mounted separately to make their light angle independent. We found that this design choice makes it easy to find the perfect coverage for illumination in your outdoor area. Adjusting the two lights independently lets the user cover quite more.    
Distance by setting the angle to cover a much wider area. Our team thinks it's also worth noting that this light is powerful, falling right in the middle of the ideal brightness for a security floodlight. Powered by 28-Watts, this flood light's intensity can get up to 3000 lumens. This light comes with motion sensor technology as well. The security light can be triggered by moving humans, cars, or animals up to 72 feet in sensing range at a 180-degree detection angle.  
Lastly, this security light is ETL-certificated,  having passed the set safety standards of some of the world's leading product testing organizations. As a result, you will have an additional layer of security that will give you peace of mind about the safety of your property.  
What we love about these solar flood lights is its motion sensor, which can act as a security measure and deterrent, an option many of the other lights do not have.  
For this reason, the LEPOWER 28W LED Security  Lights Motion Sensor Light Outdoor would be perfect for someone with a large yard, driveway,  or even a barn. 
The Novostella Blink Smart Flood Light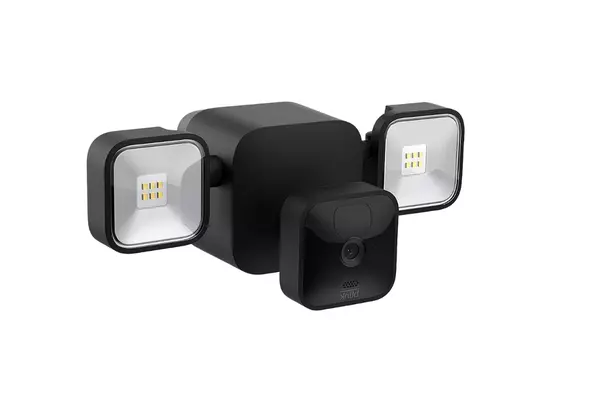 The Novostella Blink Smart Flood Lights are flexible and smart-home compatible making this the perfect modern solar flood lights. The lights are no bigger than typically wired flood lights. The design has a bit of a high-tech kind of feel and gives the lights a bit of a modern look. Our team was duly impressed to find that this set of lights features a rugged design with an  IP66-rated shell. This allows them to survive harsh weather situations like rain or snow. Of course, this wouldn't be a brilliant flood light if no software was included. The Smart Life app is an app that has vast support for hundreds of devices as well as third-party hubs and services. 
These include Alexa, Google Assistant, SmartThings, and more. Smart Life is a great app that lets you control your lights and many other smart devices throughout your home. Pairing it with another hub or service like Alexa expands this reach further. This allows you to control how the lights look when they come on and how they may interact with other gadgets like motion detectors or cameras.
As for the user experience, our team  found that connecting to and using the smart Life app was relatively easy and intuitive. Overall, we think these lights are lovely. They can be connected with just about anything  from digital assistants to a smart home hub.
If you are looking for a way to improve your home's security and look great, solar flood lights are a great option
Triple Head Solar Motion Light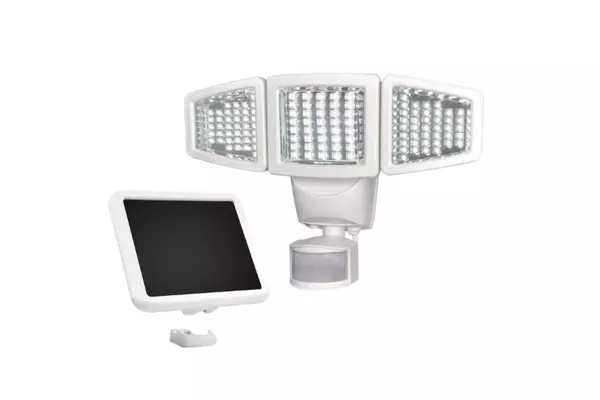 This light pulls all the stops, with an adjustable motion sensor range. With 3 light sources in comparison to the 1 which a lot of other lights in this list This light has the most wide-ranging angle, you could wish for! With a total of 1,000 lumens, The Sunforce is able to complete the task regardless of the space.
The adjustable light duration and the range of motion settings that can be independently adjusted make this light different in comparison to other lights.Users can alter the duration of light when motion is detected (30 60, 90, or even 120 minutes) and also the distance that motion is detected (10-25 meters).
The configuration is very easy. The brightness range is vast and there is flexibility in the setting. The motion sensor is extremely sensitive and adaptable.We're not sure regarding durability, but our experiences indicate that it should last for the entire night, however, this can change with each user, and it is contingent on the conditions of charging.
In terms of being waterproof reviews, we, along with others did not have any particular concerns regarding the longevity for the lamp. Our tests have shown that it has lasted well in rainstorms, however without an IP rating We don't have a assurance of how much rain this light can withstand.
We are in love with the solar-powered floodlight as each of the lights can be adjusted to your desired level. They can be turned in nearly any direction, which makes them extremely flexible to provide wide-angle, customizable lighting.
Q: How long do solar flood lights last?
A: Solar flood lights can last for many years. The batteries will need to be replaced from time to time, but the lights themselves will last for a long time.
Q: How bright are solar flood lights?
A: Solar flood lights can be very bright. LED solar flood lights are the brightest option, but halogen solar flood lights are also quite bright.
Q: Do solar flood lights need to be plugged in?
A: No, solar flood lights do not need to be plugged in. They are powered by batteries and that batteries charged by the sun.
Q: How much do solar flood lights cost?
A: Solar flood lights can vary in price depending on the type, but they are generally quite affordable. LED solar flood lights are typically the most affordable option.