Commercial Solar Installation Service in California
Solar power generation has experienced remarkable growth over the past two decades, driven by the desire to promote sustainability and capitalize on generous tax incentives that benefit business owners. As residential homes can have solar panels installed on their roofs, commercial properties in the corporate, non-profit, and government sectors can also utilize solar panels to generate power.
Solar Earth Inc. Offers commercial solar installation services and other commercial solar carport applications at affordable prices. Commercial solar systems provide a wide range of technical and direct pricing, support, as well as a number of other services such as calculating overall investment and financing the solar system. Solar Earth Inc. is known as one of the most recognized platforms where you can look for application assistance and a variety of solar system services.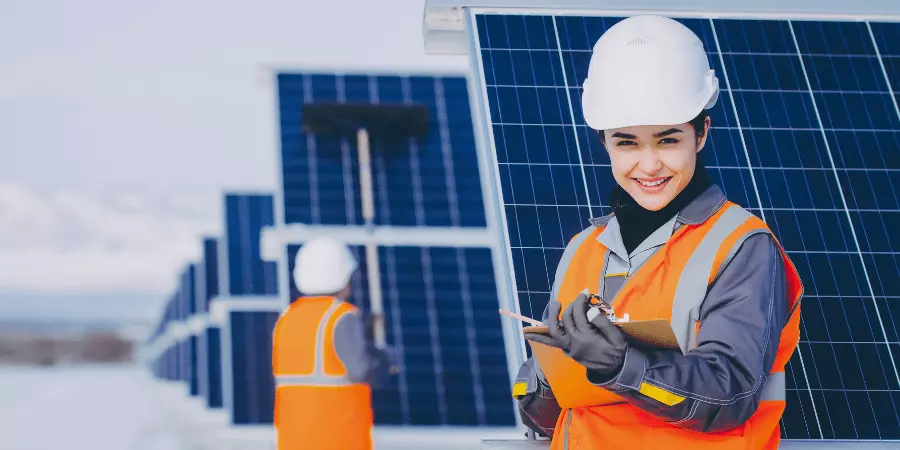 Best Commercial Solar Installation Services
Commercial solar panel , new power solar system and a number of other high-power solar panel installation services are on offer by solar electricians of Solar Earth Inc. We provide expertise on how professionals are well you can also avail solar panels for roofing another complete solar panel installation service from our solar electricians. 
Solar Earth Inc. Also provides solar plans which are extremely effective and helpful to reduce the overall power consumption in all the areas of commercial operations by availing the certified professional services.Our experts will help you to convert the free sunlight into electricity and there are a number of solar smart plans available where you can look for the installation of the solar system not just on your roof but also on your commercial buildings as well. 
The best thing about Solar Earth Inc. is that we provide you call friendly services and that is why the commercial operations which are on offer by our experts helps you to get the perfect opportunity in order to avail the high quality and best possible solutions for grid connectivity systems and hybrid solar systems which are generally very much effective in order to significantly reduce the overall operational cost of the business.
Where Can Commercial Solar Panels Be Installed?
Residential solar installations are predominantly found on the rooftops of homes, as they offer the best and most expansive surface area to capture sunlight. Roof installation is equally viable for commercial solar setups, especially since office buildings, warehouses, factories, and similar spaces often feature vast, flat roofs ideal for solar panel placement.
However, roofs are only one location for commercial solar panel installations. Solar carports, for example, can be created by turning parking lots into open-air garages with solar paneled roofs. Moreover, ground-mounted solar arrays offer another option, with certain panels equipped to tilt and elevate during specific hours to maximize sunlight absorption.
How Much Do Commercial Solar Panels Cost?
The cost of commercial solar panel installations can vary significantly, ranging from $100,000 for smaller businesses to over $1,000,000 for larger buildings. The company's size, in terms of the building and its energy needs, will determine the number of solar panels required to generate sufficient power.
Commercial Solar Installation for Your Business & Public Agency
Solar Earth Inc. Has years of experience and with the help of the experience of our expert technicians and certified professionals you can avail the commercial property owners and number of facility managers who will provide you economic feasibility in terms of your solar power businesses. 
People most of the time gets confused about availing the services of commercial solar installation service providers. As the commercial and government agencies are exponentially growing in terms of the solar market. So, it is important to look for the best possible solutions for availing the commercial solar panel installation services because it is not as simple as it looks.
A commercial solar panel is ideal for a number of commercial premises and some of the most acknowledged and essential ones are given below:
1. The commercial solar panel installations in schools and offices are extremely important in order to save electricity expenses and that is why Solar Earth Inc. Provides you high quality solar panel installation service providers, especially if you're looking for the installation of solar panels in commercial buildings such as offices and schools along with the hospitals as well.
2.The commercial buildings which include the complexities and sport clubs are also included in the list of services of solar panel installations.
3.The other commercial areas such as the airports and railway stations also require commercial operations and that is why Solar Earth Inc. Provide you all types of solar panel installation services in these commercial areas because most of the commercial operations have a larger roof so it is important to have best possible investment in solar power and we take care of your investments and always prioritize your requirements and needs.
Factors Affecting the Cost of Commercial Solar Panels
Various factors influence the cost of commercial solar panels, as with any construction or improvement projects. The installation's size and complexity can significantly impact pricing, with more extensive facilities typically costing more and taking longer to complete. Additionally, if the structure of a building presents challenges for solar panel installation, the overall cost may rise accordingly.
It's essential to consider the generous tax incentives available and the generally lower cost of energy from solar sources, which can help offset the expense of commercial solar installations. The savings achieved will depend on the energy generated and the energy required to power the business. Companies may even be able to sell surplus energy caused by commercial solar installation.
The best approach to determine the precise cost of commercial solar installation for your organization's needs is to obtain estimates from various commercial solar contractors serving your region.
How to Install Commercial Solar Panels
Commercial solar panels are typically installed on roofs using either ballasted racking or attached racking methods. Ballasted racking involves securing panels to flat roofs using cement blocks or other heavy items. On the other hand, attached racking allows panels to be fixed to sloping roofs using roof-penetrating hardware.
While smaller-scale solar panels for residential use may be suitable for DIY projects, it is highly recommended to entrust the installation of commercial solar panels to trained professionals equipped with the right tools. Incorrect installation can lead to suboptimal power generation and pose safety hazards if panels are not securely fastened.
Commercial Solar Installation Process
The Experts and Certified Professionals of Solar Earth Inc. will provide you the following Commercial Solar Installation Process While Installing the Services:
We offer you completely free obligation and the site inspection along with the free consultation.

Our professionals and specialists will take care of your design to provide the best possible solar system solution that      will meet the basic needs and will fit in your budget.

We provide you with the detailed legal quotation along with the pre-planned installation services.

Our expert and aggregated installers will provide you with the expert installation in your commercial space.

The first-class backup services are also included in the list of commercial solar installation services on offer by Solar Earth Inc.

Our expert technicians will also take care of the local and electricity distributor to determine the eligibility criteria and the overall infrastructure requirements in the installation space.
Benefits of Commercial Solar Panel Installation Companies
There are a number of significant benefits of commercial solar panels and that is why everyone is looking to invest in these solar energy systems not just for the industrial scale, but also on the commercial scales because it is considered as one of the most effective ways to save the electricity consumption charges. 
You can simply utilize the roof space on your commercial areas to generate the electricity and to save the extra electrical expenses. Solar Earth Inc. Provides you all types of residential and commercial solar panel installation services along with a number of other solar energy services at a very economical and reasonable price, because this is one of the most acknowledged and certified platforms where you can look for all types of Commercial Services. The benefits of residential and commercial solar installation by the experts of Solar Earth Inc. are given below:
The biggest advantage of commercial solar installation is cost saving option because the solar panels generate free electricity, especially during the daytime that can be used in the later part of the day so your extra electricity bills can be saved.

 Ideally, you can install solar systems and can also increase the solar energy which ultimately complements the solar income.

The other advantage of commercial solar panels is the stability in terms of financial needs because with the increase of the solar energy consumptions the installation of solar panels in the commercial areas will save extra financial expenses so to give you complete financial stability.
Commercial Solar Incentives, Tax Credits, and Other Incentives
The solar investment tax credit (ITC) is a federal initiative incentivizing business owners to install solar panels on their commercial properties.
The tax credit initially stood at 30% of the total cost of solar photovoltaic (PV) systems installed in the current tax year. However, Congress passed an extension of the ITC in December 2020, gradually reducing the tax credit over subsequent years. For system installations commenced between 2020 and 2022, the credit is 26%; in 2023, it will decrease to 22%; and from 2024 onwards, the credit will be 10%.
If you're contemplating commercial solar installation for your business properties, initiating the projects as soon as possible is advantageous. According to the US Department of Energy, a solar installation project is considered "started" if significant progress has been made or if 5% of the total costs have already been paid out for integral work. Services have been rendered within 3.5 months of payment.
Residential vs. Commercial Solar Panels
While residential and commercial solar panels absorb sunlight and transform it into clean energy, there are critical differences between them.
Due to the vast size of specific commercial properties, there are more options and locations for installing panels. Given the higher power requirements of commercial enterprises compared to typical residences, commercial solar panels are generally more extensive and powerful, often featuring 96 cells or more. A standard residential solar panel will have 60 or 72 cells.
Go Solar Today! Request Your Free Estimate
Experience the Power of Solar Energy with Solar Earth INC! Take a step towards sustainability and cost savings by opting for our professional commercial solar panel installation services. Our expert team will help you harness abundant sunlight to generate clean and renewable energy for your business. 
From vast flat roofs to innovative solar carports, we offer versatile installation options tailored to your needs. Take advantage of generous tax incentives and rebates that significantly offset your investment. Go solar today and request your free estimate to embark on a greener and more sustainable future for your organization.
Remember, investing in high-quality solar panels and protective measures, offered by Solar Earth Inc., is an investment in the future of clean and sustainable energy generation.
Owning your own commercial solar energy system makes so much financial sense. Free Electricity from Sun Power, great incentive from The Government 26% Tax Credit, 80% Depreciation payback period is just a few years. Finance payments can be less than your current Electric Bills from either PG&E; or Southern California Edison.
Best Solar Panels for your workplace
All of our Commercial 72 Cell Panels are manufactured in the USA