Roof Mounted Solar Panels
Solar panels have diversified the technology in various ways. It gives you an advantage over your ordinary electricity expenses. With the more dependence on modern technology, major residential areas, as well as commercial areas, are adopting solar panels for electricity production to run their day-to-day agenda. Before jumping to any decision this is a pretty key that you should know if you can bear roof mounted solar panel systems along with labor and wiring. 
What are Roof Mounted Solar Panels?
Roof mounting is the most common type of solar panel installation. In this method, the solar racking, which securely holds the panels, is directly installed on the roof allowing solar panels to be attached to both flat and sloping roofs, regardless of whether they are made of metal, shingle, or rubber materials.
Roof mounted solar panel systems are a great choice for commercial and residential applications. They are cost-effective and require low maintenance, and returns on your worth of investment, whether you need to power your home, run a business, or reducing energy consumption for hospitals or schools.
Many companies in the market merely want to earn profit from your money. Solar Earth INC. is a solar panel company in Santa Barbara that offers you exclusive renewable sources of energy. Our experts will give you a better idea about what schedule you should adopt as per your roof. We work closely with our customers to ensure the safety of their houses and long-term investment.  
Solar panels are not cheap. But the number of installations keeps on rising, and the cost of solar panels keeps on falling. The cost of roof mounting solar systems usually depends upon the size and the type of system you choose to install. It also depends if you are going to adopt a tracking system or not. Our experts will give you a brief review before installing your solar panels.  
Before installing solar panels roof mounting system make sure you have an adequate idea about the material of your roof. Sometimes it might not have a favorable enough solar window to justify the cost of panels. Roof mounting systems will increase your property values as well.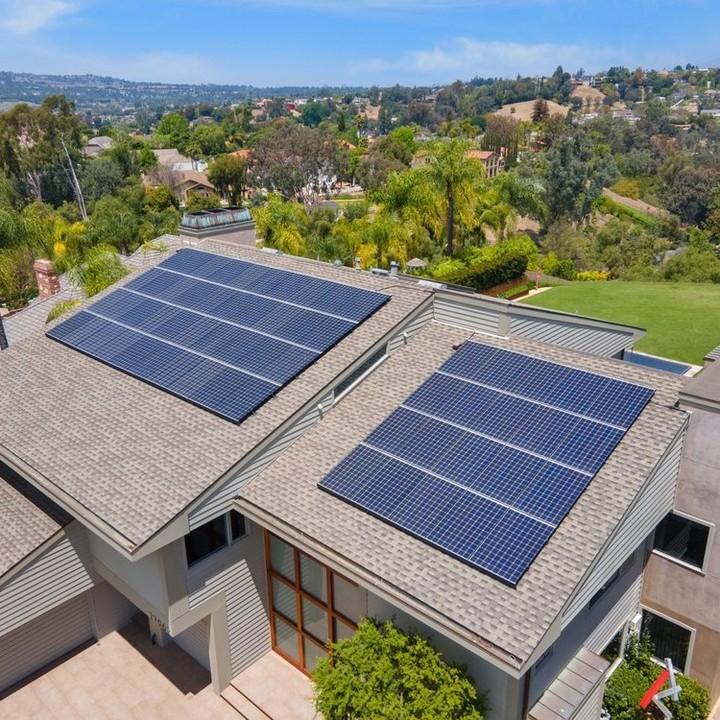 The Best Roof Mounted Solar Panels
Pros of Roof Mounting Systems
Space Utilization: Roof mounts utilize otherwise unused space effectively.
Lower Installation Cost: Typically, the installation cost is lower compared to ground-mounted systems.
Land Conservation: Does not occupy land that could be used for other activities.
Enhanced Security: Limits unauthorized access to the panels, ensuring their safety.
Roof Protection: Panels can shield the roof from certain elements, extending its lifespan.
Cons of Roof Mounting Systems
Roof Penetration: Required for shingle roofs, potentially causing issues.
New Roof Requirement: Might necessitate a new roof before installation.
Removal for Repairs: Panels might need to be removed and reinstalled for roof repairs or replacement.
Added Weight: Adds weight to the roof; additional support may be necessary in some cases.
Curb Appeal Concerns: Some worry about solar panels negatively impacting the visual appeal of their property.
Safety Hazards: Can pose a safety risk for the installation team during the setup process.
Considerations for Roof Mount Installation
Roof Condition: Assess the age and condition of your roof to ensure it can support the solar installation.
Warranty Impact: Consider the potential impact solar installation could have on your roof warranty and plan accordingly.
The Best Roof Mounted Solar Panels
Usually, solar panels have a lifespan of 25 to 30 years. Everyone deserves the best for themselves, their children, and their house. Solar Earth INC. will help you get the best of the opportunities. Best roof mounting solar systems are the ones that complete their lifespan, protecting your long-term investment and producing electricity with suitable capturing of sunlight.  
If you have a rooftop with adequate sunlight daily without any hurdle, your solar panels will work the best there. Roof-mounting solar panels are the ones that are much more efficient in converting solar energy into electricity. Our experts help you provide an audit of your roof and then draw up blueprints for your respective solar panels. Our best roof mounted solar panels allow you to trim your usage before paying for them.  
Our solar panel systems are the best one that meets industry-leading efficiency standards and has a history of exceptional technological performance. Outstanding customer reviews will also make you believe in the stuff more. We use only the highest-quality materials and state-of-the-art technology to ensure your solar panel system performs at its best. Plus, we offer a satisfaction guarantee on all our services. S.M.A. manufactures the Inverters – probably the best in the world.
Solar Panel Roof Mounting Aluminum Rail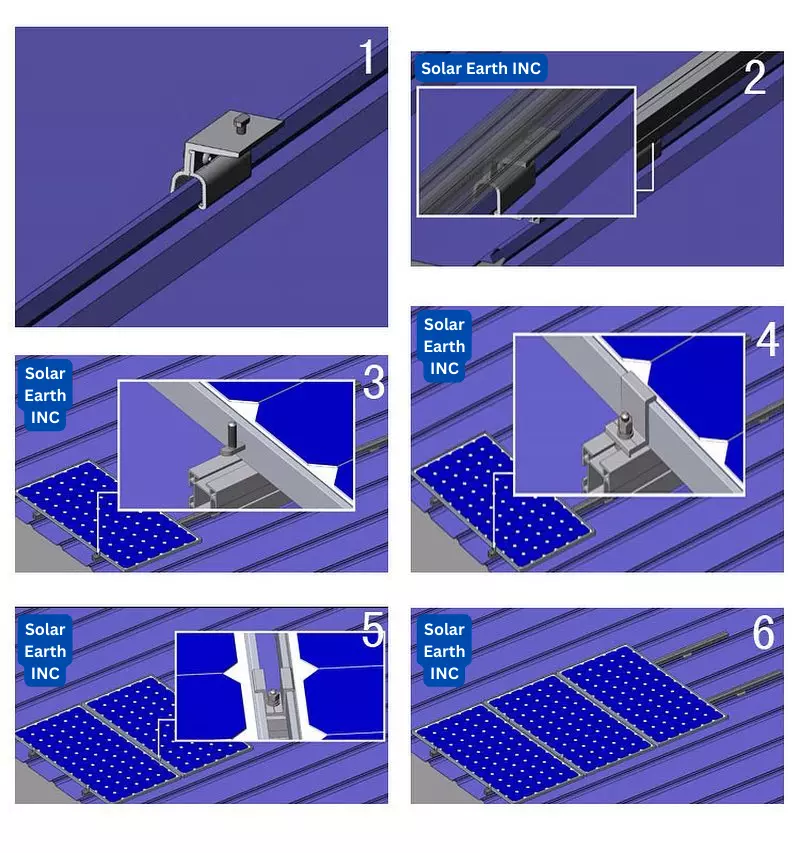 Aluminum rails can be customized according to your projects. Solar panel roof mounting aluminum rails provide a structure designed for roof solar system mounting and are suitable for various hooks and fixing clamps. There are different solar mounting rails for different wind speeds and snow loads These rails are anti-corroded and have high strength. The best of them is the one with a unique nut and size design.  
Solar Earth INC. helps you install different rails as per your needs. We use the most efficient and adequate solar panel roof mounting kits t. These kits are necessary for anyone who wants to use solar power to go off-grid. These kits usually include solar panels, mounting hardware, and charger controllers.  
Wind loads help produce pressure. When they are attached in place to the exterior of the roof-mounted solar panels, they will set an angle at which the wind strikes the solar panels increasing their efficiency. A pressure of force will be generated that will produce wind loads on roof mounted solar panels. This will give you better production of electricity by better usage of sunlight. It prevents any kind of wastage of sunlight.  
Contact us today at(805)691-800 to learn more about roof mounted solar panel.