Types Of Solar Panel Connectors
Solar power systems require a lot of preparation and connecting solar panels together to get maximum output. The Solar connectors are designed to help you quickly get your system connected. This quick and easy connector ensures the continuity between cables that connect the modules in the solar array.
When the grid goes down, your home's power comes from a portable generator, allowing it to power any appliance in the house. When you plug the ends of the solar wires together, they become the main solar panel connectors.
When you install a solar system, you must be sure to configure the components correctly to maximize their efficiency and longevity. With these solar panel connectors, you can easily add more modules later to increase the system size.
It is essential to use the correct connectors when assembling a PV system. This will ensure that the wiring works properly.
In this article, we'll explore the basics of solar panel connectors, you'll learn about the different types of solar panel connectors, the differences among them, and many other important aspects that you should know.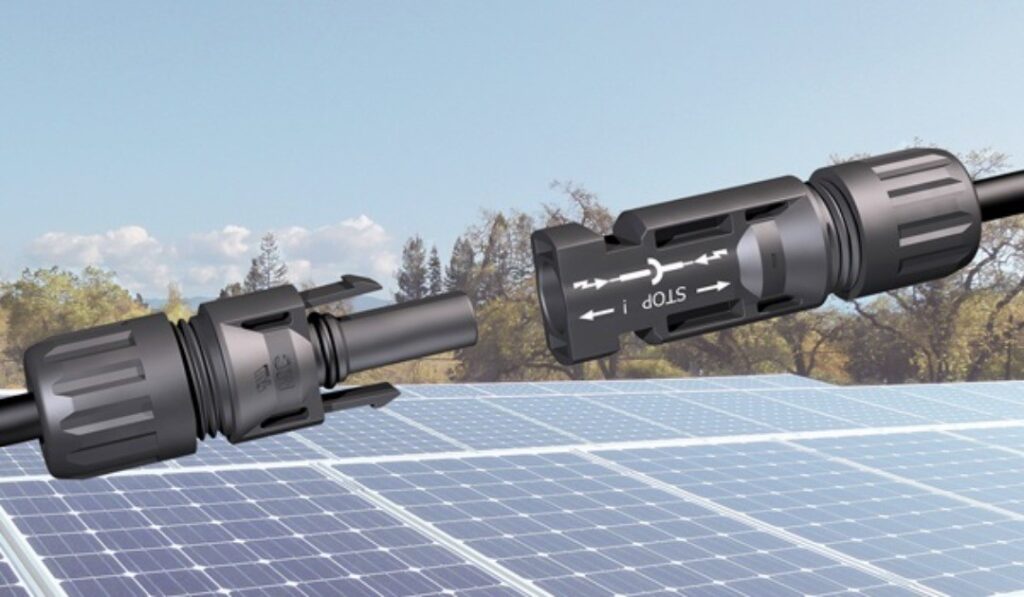 Different Types Of Solar Panel Connectors?
In short, the most popular solar panel connectors are:
Helios H4:
The Helios H4 is another popular type of solar panel connectors that is manufactured by Amphenol. This MC4 plug connector is compatible with the MC4, and makes it easier for homeowners to install one or the other without worrying about incompatibility.
Radox:
Huber+Suhner's Radox solar panel connectors are premium quality made in Germany and feature a 15-year warranty. The use of copper-beryllium contacts with a lamella design ensures that the right amount of current flows through the wires.
While the solar panel connectors that were manufactured in Europe did not meet US market requirements, and thus are not widely used nowadays, they were once popular because of their ease of use and low cost.
Most popular type is the MC4 Connector.
Even if you aren't interested in solar energy, this is a must-read. It will give you an overview of all the different types of solar power and how they work. The UL compliant, multi-contact switches are designed for use in residential wiring applications where it's critical to have a reliable method of disconnecting power.Q:
The connectors are rated for use in wet and humid conditions, and have an IP67 rating, which means they are fully waterproof. The connectors have a locking mechanism that can be unlocked with a special tool for more reliability.
Each solar panel has two connectors: a male connector and a female connector. At the ends of  junction box wires. You've got it! Attached to the positive lead is a female connector, while negative lead has no connection.
With the exception of lithium ion batteries, there are no safety markings to indicate the size of any battery. To find out the actual capacity of a battery, use a voltmeter and check that the voltage matches what the battery should deliver at full charge.
Multi-contact is the brand name of the manufacturer that became associated with the product. These solar panel connectors are made from UV resistant material, and have an IP67 rating. They're fully weatherproof.
MC4 solar panel connectors feature a locking mechanism that cannot be unlocked by hand or using standard tools. Solar panels have two connectors: a male and a female. They are located at the ends of junction box wires.
Which is positive and which is negative? The female connector is attached to the positive lead. But there are exceptions, so it's best to look for the markings or do a voltage test.
The MC3 Solar Panel Connectors
MC3 solar panel connectors are a reliable way to connect two wires together because they are made of flexible material. They're also water-resistant. Like the more expensive MC4 connectors, these have evolved to be much easier to use than the previous connector types.
There are two forces that prevent electrical contacts from disconnecting: friction and suction. There is no reason to use MC2 or MC3 connectors after a positive locking system became a NEC requirement.
However, MC3 solar panel connectors are still easy to buy. Some people use them for older panels that don't require compliance and for smaller setups.
Most of the MC3 solar panel connectors are obsolete. It is no longer the case that friction and suction are the only forces preventing them from disconnecting. After a positive locking mechanism became a National Electric Code requirement, MC4 solar panel connectors took over the market.
Generic by Canadian Solar: T4 solar Panel Connectors
SolarCity was the first company to introduce solar panels and home battery storage systems in the United States, offering green energy solutions to homeowners. The solar panel connectors are very similar to the MC4. They employ a positive locking mechanism.
Their operating temperature range is from -40 to 194°F. They're RoHS compliant, REACH compliant and conform to NEC standards.
What Type Of Solar Panel Connectors are used for solar panels?
Solar power connectors are many, some more common than others. They are identified by the letter "MC" (4-pin) or by the letter "T" (twisted pair). In order to optimize your power output from a PV system, you need to make sure that all the cells in your PV array are connected in the correct way.
Look for the MC4 compatibility information in the data sheet. It's unfortunate that most of the time such a combination won't constitute a UL rated connection.
Be Careful When Mixing Solar Panel Connectors
Most of us don't have a clue what any of these solar panel connectors are or how they're used, but that doesn't mean there aren't some very clever people in the industry that can give us some real insight.
They vary in appearance and are made by different manufacturers, but it is rarely important to the end user.
For solar panels, compliance with standards, compatibility with other types and whether these mixed connections meet all relevant requirements matter. Most of today's solar panels will have solar panel connectors that meet all relevant regulations.
You can get your hands on a refurbished unit by using this guide. Look for the type of connectors the panel features.
MC3 solar panel connectors, for instance, are weatherproof and look fairly reliable, but the absence of a positive locking mechanism prevents them from being NEC compliant. It means that they can't be used for connecting solar panels in most of the states. Another important topic is the combination of different solar panel connector types.
Most generics are compatible with MC4 solar panel connectors, which are common on e-readers. The problem is that many of these connections do not comply with all relevant standards and some do. For example, the T4 connector made by Canadian Solar the company recognized that T4 and MC4 were both being used for connections.
To stay safe when choosing connectors, you can either pick a particular type throughout your system and stay consistent or contact the manufacturer to request a warranty addendum and replace the solar panel connectors with a different type.
There is no such thing as a "solar panel" that meets all relevant regulations, but there are many different solar panel connectors on the market.
However, if you are buying used modules, make sure to ask about the type of connector that the panels use.
For example, MC3 solar panel connectors are weatherproof, look fairly reliable, but the absence of a positive locking mechanism prevents them from being NEMA compliant.
In most states, connecting solar panels to the grid is illegal. If you live in such a state, then you need to use solar panels with the batteries, or your electricity will be stolen.
Replace Solar Panel Connectors In Easy Steps
Be careful when removing the old solar panel connectors, for example, by cutting it off with a cable cutter. Remove about ½ inch of isolation from the tip of the cable.
An ideal connector needs to have 4 elements. Unscrew the cap to remove it.
Wire the connector through the cap. Cable the connector with the cable gland.
Next, thread the pin through the hole in the crimping tool and press it home.
Hold the crimper firmly in place over the pins so they are securely held to the wire. Then, press the tool to crimp the pin to the wire.

 

Screw the two parts of the connector together.
They should meet in the middle. The last step will be to make sure that the connection is tight.
Pull on the connector to see if it is securely attached to the cable's end.
How to assemble a PV system using solar panel connectors
To connect two or more modules in series you only need to connect the male and female wires.
If a battery gets a bad connection, it will drop the voltage.
A typical battery pack might have 24 cells, with six of them connected in series, and six in parallel. If it was discharged to 3.
The current will not be affected. If you wire the positive and negative leads in parallel, you need to connect the positive and negative leads with each other.
This will increase the system's current without affecting any voltage.
One of the most common mistakes is using a phrase that is a grammatical sentence by itself, such as "The book was written by John Doe.
Two male or female ends can't connect, so it will require more equipment, such as multiple-branch connectors.
The male and female outputs are called the + and – leads respectively.
The tool is required to separate the modules.Q: Convert Java Code to Swift Code (Android Studio) I am new to programming and I was trying to
Press the two extended posts on one end of the tool into the side of the male connector.
What Is The Difference Between MC3 and MC4 Solar Panel Connectors?
Multi-Contact offers the MC4 wire solar panel connector, which is an improvement over MC3. The first difference between both solar panel connectors is the ingress protection (IP) rating.
The MC3 cable has an IP65 index that fully protects it from dust, but it's not waterproof, meaning it doesn't protect it against low-pressure water sources.Q: Why would someone prefer to use.
The MC4 is an ideal tool for outdoor applications such as pool fences and pool liners because of its outstanding abrasion resistance.
The second and most important difference is the lock system.
The MC3 solar panel connectors does not provide any protection for the wires so they could be easily separated, and that would be a very dangerous situation, especially for circuits generating power. The MC4 features a positive locking system that cannot be disassembled without an MC4 assembly/disassembly tool.
The MC4 solar panel connector can be used for solar power systems with just about any length. It's a safe option for systems that use solar panels.
If you want to connect MC3 to MC4 and to place MC4 solar panel connectors at your home, you just need to crimp the MC3 connector onto the cable, then crimp the MC4 connectors to the wires with a crimping tool.
Owning your own commercial solar energy system makes so much financial sense. Free Electricity from Sun Power, great incentive from The Government 26% Tax Credit, 80% Depreciation payback period is just a few years. Finance payments can be less than your current Electric Bills from either PG&E; or Southern California Edison.
Best Solar Panels for your workplace
All of our Commercial 72 Cell Panels are manufactured in the USA