RESIDENTIAL SOLAR PANEL INSTALLATION SERVICES
HASSLE-FREE RESIDENTIAL SOLAR INSTALLATION SERVICES
You can make your power by putting solar panels on your house. This will save you money on utility bills in the short and long term and help protect the environment. Clean energy is what we need to get to the future.
SOLAR PANEL INSTALLATION FOR RESIDENTIAL HOMES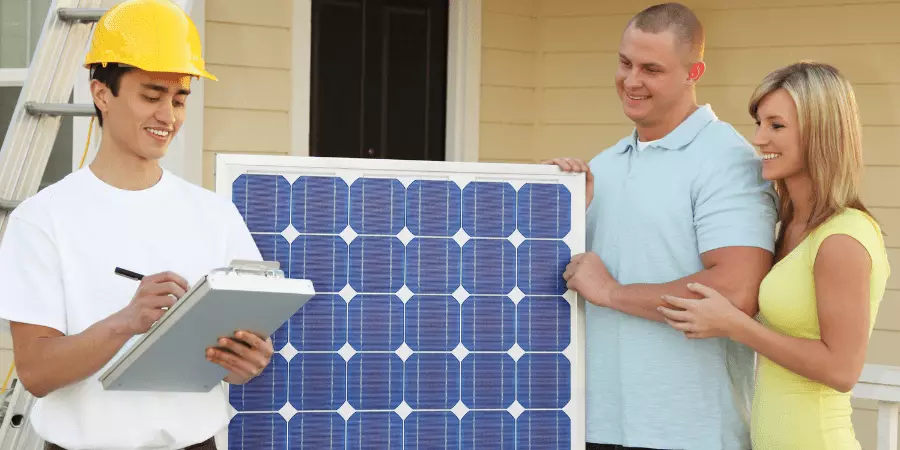 We're the best solar contractors and offer solar installation services in Santa Barbara, Goleta, Lompoc, Santa Ynez Valley, Los Alamos, and Santa Maria.
We can put solar panels on concrete, metal, tile, and flat roofs.

Our local solar technicians can create custom designs and provide advice for your building or contractor. We also have ground-mounted solar energy systems and solar carports for you to choose from.

We only use the best solar technology when we need it.

The Complete Freedom guarantee is part of our installation services.

Tesla Powerwall on the side of the house.
Please ask about services for P.V. systems that other solar companies have already installed in some areas.
At Solar Earth INC, we provide a wide range of services to make sure your solar system works perfectly. Our team can fix, maintain, and update solar panels to get the most energy out of them and make them work better overall.
WHY SHOULD YOU INSTALL SOLAR PANELS AT YOUR HOME?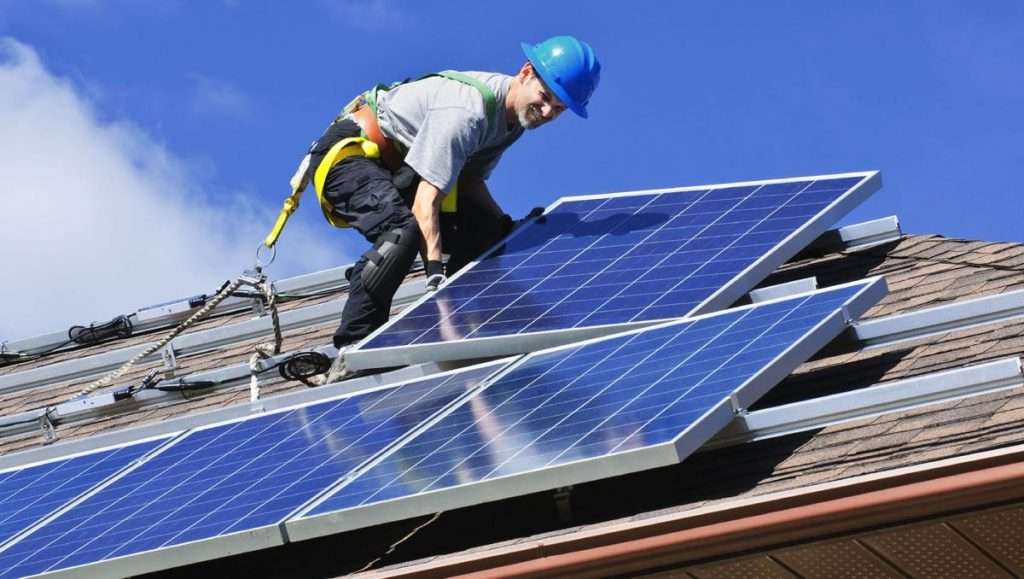 Installing solar panels may require an initial investment. However, it is a smart choice. It can save you money on electricity bills and increase your home's value.

Solar helps clean up the air around you and lower your carbon footprint. You can save money by installing solar panels on your house.

We offer different financing options to make it affordable for you. One option is a $0 upfront payment. We also have affordable interest rates.

Discover more about the expenses of installing solar panels at home and how you can economize by generating your solar energy.
CONSIDERATIONS BEFORE INSTALLING SOLAR PANELS FOR HOME?
More than ever, Americans are learning how helpful solar panels for homes can be. Today, less than 5% of homes in the U.S. have solar panels. However, experts expect that all the sunshine, falling panel prices, and sound policies will significantly grow solar power.
Here are various elements you need to consider to ascertain if your house is suitable for the installation of solar panels:
One common reason people can't put up solar panels is that they are in the shade. Solar panels will only work well if trees or other things do not block them from full sunlight all day.

If you want a rooftop system, your roof must be in good shape. Your home should face south or west if possible, but this is only sometimes necessary. You can put solar panels on any roof.

If installing solar panels on the roof of a home is not possible, ground-mounted systems may be a good option.

Solar usually only makes financial sense if you plan to live in your home for at least two years. If you are moving soon, you should put off installing solar in your new house.

Adding solar to your plans will save you money when building a house. We'll work with your developer to ensure the process goes smoothly and quickly for you.
Many changes in your life can cause your energy use to rise, which may make you consider getting home solar panels. There are several examples of things people might do. These include getting a bigger house, living with kids or older parents, buying an electric car, or putting in a pool.
If your power costs have increased lately, now is a great time to look into how solar energy can help you save money.
WHY CHOOSE SOLAR EARTH INC FOR YOUR RESIDENTIAL SOLAR PANEL INSTALLATION?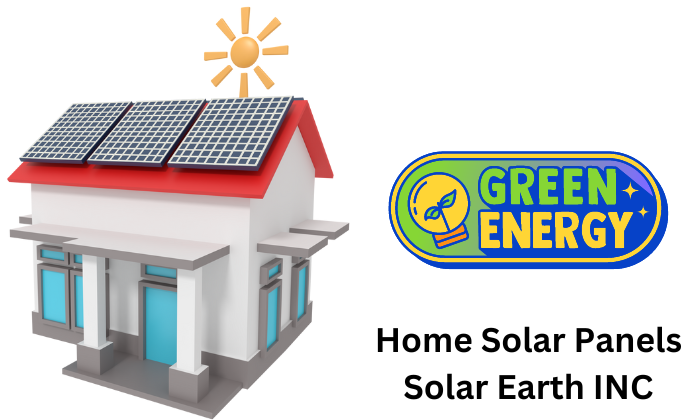 OUR COMMITMENT TO YOU
The people who work for us are experts in sales, planning, getting permits, installation, and customer service. People who are humble and want to make the world a better place are the ones we hire. We installed high-quality solar panels to provide reliable power for you and your family, focusing on every aspect. In the form of a 25-year warranty on goods, performance, and service, we hold ourselves responsible for the results you get. 
HOME SOLAR PANELS MADE EASY
It's easy to install solar panels on your home with our Seven Steps to Solar process, which includes everything you need. We'll handle your installation and everything, from getting HOA approval to checks and permits. You can rest easy knowing how solar panels work and that you have the best and most reliable ones on the market. If you ever need help, the Solar Earth Inc service department is here to help you.
LOCAL EXPERIENCE YOU CAN TRUST
Solar Earth Inc. can build, monitor, and repair home solar systems in several locations. These locations include Santa Barbara, Goleta, Lompoc, Santa Ynez Valley, Los Alamos, and Santa Maria. We sell and install the Tesla Powerwall battery and are qualified to do so. We also have a wide range of other home batteries available.
Our team of experts will help you get all the federal and state tax breaks and rebates you can for going solar. With more than 15 years of experience and 24,000 happy customers, we know a lot about solar.
WHERE DOES WE INSTALL RESIDENTIAL SOLAR PANEL SYSTEMS?
We install home batteries and solar panels in different locations in Santa Barbara County. These locations include Santa Barbara, Goleta, Lompoc, Santa Ynez Valley, Los Alamos, and Santa Maria. We install them on both roofs and ground.
How Does Solar Work in California?
Net Energy Metering (NEM) is the agreement that a solar customer signs with their utility company. It sets the "export rate" for the extra solar energy sent to the grid and controls its worth. NEM lets solar customers send back the extra energy they make when it's sunny, get credits in return, and then use these credits to balance out their nighttime use. Under the current agreement, NEM 3.0, it is suggested that a solar system be paired with a battery to get the most out of the solar power that the system produces.
How Much Sunlight Do You Need?
Solar panels need sunlight to make power; the more, the better. But some everyday things, like trees, buildings, and weather, can stand between the sun and your panels.
Sources of shade
Trees, buildings, hills, mountains, and even powerlines can reduce how much electricity your system produces. If these items cast a shadow on even just a part of your panel, that panel's output can be reduced by 33% to even 100%. Before installation, your installer should do a shade assessment analysis with specialized tools to ensure shade won't interfere with your system's energy production.
Clouds & Rain
Climate also has an impact on your system's production. Solar panels will produce less energy if your home is located in a mainly cloudy or rainy area. However, solar has proven itself time and time again in the dreariest climates. The fix for this is installing a few extra panels to compensate for lost production. It has a modest impact on costs but can significantly impact electricity savings.
As of 2023, the average cost of solar panels for an average home varies based on the system size and other factors. On average, residential solar panel installation costs between $12,390 and $15,960 after claiming the 30% federal solar tax credit. This equates to less than $3.00 per watt installed on average, representing a significant reduction in cost compared to the prices from a decade ago.
Please note that these costs are estimates and may vary depending on your location, specific installation requirements. Additionally, state incentives or rebates may further affect the overall cost of installing a residential solar system. 
Optimize your ROI with Solar Earth Inc
American made solar panels are some of the most efficient solar panels on the market and their technology creates more energy from the sun each day. They produce up to 60% more energy than a conventional Chinese made solar panel! Our panels come with a 25-year warranty, so you can feel confident in your installation's lifeline and what brand of solar panels you buy. Equally as important. Our panels are designed to look great on your home.
CUSTOM CRAFTSMAN INSTALLATIONS
Always custom & always in-house without compromising on quality
Solar Earth is committed to providing the best solar energy installations in the business. We have veteran installation technicians with years of experience who go above and beyond to make your system's structure as attractive as it is effective. Don't just get solar from anyone. Invest in companies you can trust! On a roof mount system, our installers run the conduit in your attic rather than outside your house, "as most other companies do." This means that your design looks cleaner and keeps your home looking great. It's just an extra step to ensure you love your new system.
Investment in a Secure Future
Solar system installation is an investment in a secure future. Once you install these, you free yourself of the worries related to the traditional power supply to your home. You won't face issues like power outages, loss of connection due to faults in wires, or will have to pay for the electricity you are using. Instead, you can use the energy you want in a solar system, and there will be no worries about the bill.
There are no problems like power outages or overloading. Instead, it fulfills all your needs. Installation of solar panels leads to investment in a secure ecosystem. You will opt out of the state or local grid. So, the energy you use will not be produced. Usually, this is produced by burning organic products like oils or using nuclear reactors. But it won't need to be made when you don't use it.
Mass migrations from traditional methods of energy production to non-traditional ones like solar energy will help improve the environment long-term.
Ready To Embrace Solar Energy? Contact Us!
If you're ready to harness the power of the sun for your residential solar project, our friendly and knowledgeable staff is here to help. Give us a call to discuss your needs, get a quote, and explore the available rebate incentives.