Santa Barbara Solar Company | Solar Earth Inc
Are you looking for the Best Santa Barbara Solar Companies ? Do you want to install a solar system good enough to generate electricity? Are you worried about the proper installation process? Do you want to install a solar panel in your home but unable to find experts? Then don't go away and read this article. You will get all your required answers.
Making use of solar energy is not a trend, it is a need of the present time. The climatic changes and severe environmental degradation is demanding this transfer on renewable energy sources. High carbon emissions and greenhouse gases are depleting our atmosphere. We have to generate electricity via sunlight trapping. Hydro power projects, home stoves, factories, industries, schools, residential as well as commercial projects have to go solar. To avoid the raising temperate of earth. To stop the temperature at 1.5 degrees increase. To stop the raising of oceans and increasing entropy. We have to make a shift in our solar energy sources.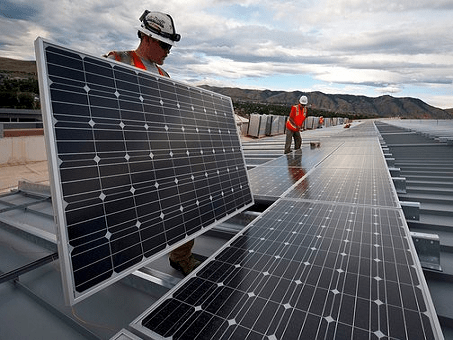 A photovoltaic module involves an array of photovoltaic cells mounted on the frame. These cells capture the sunlight and energy packets from solar radiation and generate electricity. The basic component of the solar system includes the PV panels, which are generally fitted on the roof, mounted on the ground or any favorable location. A place which receives the sunlight in an abundance. Ideally, PVs should be tilted by an angle of 30 degrees.
Santa Barbara Solar Panels For Home
There exist myriad steps involved in the planning of installation of solar power at home. It is really difficult to handle it ourselves. Therefore, the installation of Santa Barbara solar panels for home is facilitated by our company. We will tell you how, where, and why to install solar panels. We mostly inform about the exact steps that a person needs to power his home with solar energy.
Check and investigate accurately the efficiency of a person's home energy.
2.Assess the available choices for having solar panel
3.Accurately estimate your electricity needs
4.Assessment of the target site
5.Provide bids to the customer
6.Understand the financial requirements
7.Set up the agreements
8.Work on installation
9.Make effective use of solar energy
You might be wondering which company is this much reliable, environmentally sensible, eco-friendly, and pro-renewable. Dear customer! Solar Earth Inc. is the official website where you can find all about solar systems and solar panel installation.
Best Solar Company in Santa Barbara
We are the Best solar system Installer in Santa Barbara. Our team of professionals is ready 24 hours a day and seven days of the week. We work hard to maintain a high-class customer-company relationship. Our professionals have mastered their skills. Before contracting we assure our customers of our help on every step. We explore various ways and make an effort to carry out home energy audits. In these audits, we help our customers to understand where they are losing energy inside their home, and what steps to take for improvement, what are highly efficient products, how to make effective use of lighting, heating and cooling, weatherizing, etc.
PV technologies make use of solar energy which is scattered and direct from the sun. Our professionals use various mapping tools and services to know and determine the solar energy potential of your home. We try to analyze while your home's roof is suitable for installation or not. Before installing a solar panel following consideration should be undertaken:

While selecting the location to undertake the number of trees, our professionals will help you evaluate the shading factor. 
The age of your roof should be determined before setting an array of solar panels or solar cells. Our team of professionals will help you understand when and why your roof needs replacement, recoating, or amendments.
We also help you to get through homeowner association restriction (HOA).
We also help you to get solar rights.
Solar financing is a major issue. We being the Best Solar Financing Company in Santa Barbara, provide help and assistance in getting finances, bank loans, governmental funding, solar loans, etc. To achieve environmental sustainability and utilize renewable solar energy sources effectively.
Dear Customers! Just contact us and get your solar panel installed at home and in residential areas. We provide top-notch services with great affordability, increased availability, and making awareness of the effective use of renewable resources. Do not waste your time on quacks and choose our trustworthy team of professionals. Be financially mature and environmentally sensible.
If you have any quries abour Santa Barbara Solar installation feel free to call us @ (805)691-8000.  For more info abour residential solar installation, commercial solar installation and industrial solar systems visite Solar Earth Inc.